Frequently Asked Questions
We're glad to share information about the cats we enjoy so much. Here are answers to questions we're asked quite frequently while at cat shows.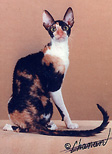 Richson Bella of Tenderclaws
Grand Champion,
Regional Winner
This tortoiseshell and white kitty is an exceptional example of the breed; playful and loving.